October 16, 2023
The NextGen team is more than thrilled with the end of this year's Legislative Session, as our advocacy work resulted in several major policy victories! We're also very thankful for the support from our dedicated coalition partners and reliable action-takers like you! Continue reading for a recap of what happened with this year's NGP priority bills list – what was signed into law, vetoed, and made into two-year bills. That's not the only exciting thing we're previewing in this issue of What's Next – learn about a recent LA Times editorial featuring our recent Climate 100 report on reducing car dependence; an opportunity for students to share their debt collection stories which will help us put an end to "shadow debt"; and more October "tricks and treats"! Here's What's Next at NextGen:
★ Legislative Session Wrap-up: We've reached the end of the legislative session! October 14th was the deadline for Governor Newsom to sign or veto bills and the NextGen team is pleased to announce that 15 of our bills were signed into law. Read our full press release for more information on the final status of this year's priority bills. Below are some of the bills that were signed into law:
SB 253 (Wiener) – Climate Corporate Data Accountability Act
SB 261 (Stern) – Climate-related Financial Risk Disclosure Act
SB 348 (Skinner) – Nutritious School Meals
AB 421 (Bryan) – Referendum Reform
AB 789 (Berman) – Financial Aid Access
AB 1118 (Kalra) – Racial Justice Act
★ Victory! AB 41 Vetoed by the Governor: Everyone deserves equitable access to high-speed, reliable, and affordable broadband service – no matter where they live in California! It has been NextGen's mission to help foster digital access and inclusion, which is why we are so happy that Governor Newsom vetoed AB 41 (Holden), a legislative measure that would have further widened the digital divide in California because it weakened policies related to build-out requirements, consumer protections, and equal access. "We thank the Governor for his decision to veto AB 41, and look forward to working together next year to develop and support legislation to reform broadband access in California and grant everyone equitable access to high-speed, affordable internet service and in doing so close the digital divide for all." – Arnold Sowell Jr., Executive Director at NextGen Policy.
★ Updates on Our Two-year Bills: A couple of NextGen's policy priorities became two-year bills, meaning the NextGen team will continue to advocate for and advance these equity-focused initiatives during the 2024 legislative session:
AB 280 (Holden) – The California Mandela Act: will reform and set limits on the use of solitary confinement in California's prisons, jails, and detention centers. Our coalition looks forward to continuing negotiations with the Governor's office and getting AB 280 across the finish line next year.
AB 1160 (Pacheco) – The Protecting Students from Creditor Colleges Act: will support enrollment and graduation rates in California by eliminating harmful debt collection practices related to institutional debt. We look forward to working with the State Legislature to advance AB 1160 through the process next year.
---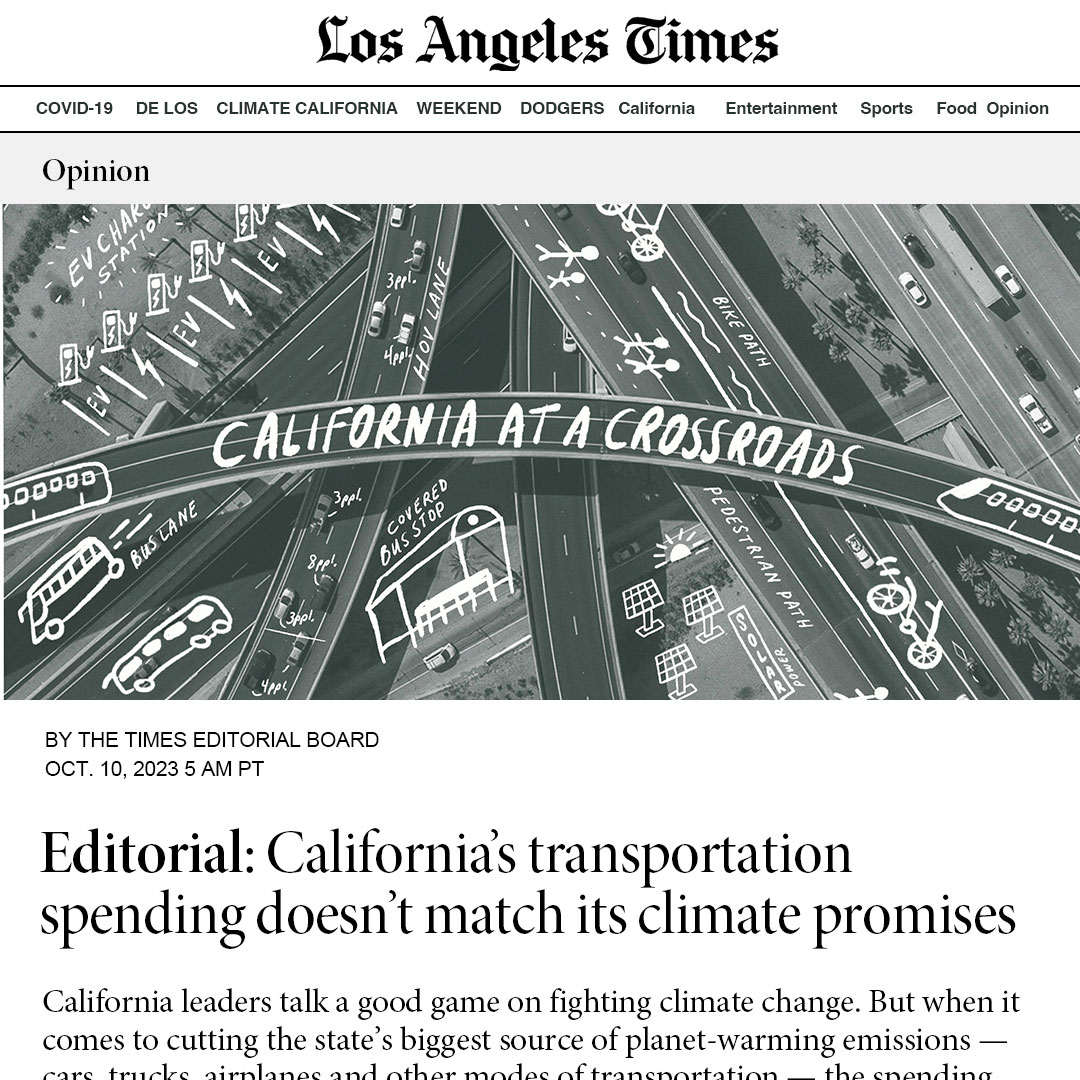 California's transportation spending doesn't match our climate goals. The LA Times Editorial Board relays findings from our recent "California at a Crossroads Report" to call on state leaders to prioritize transportation mobility options and proven traffic solutions over wasteful highway expansions:
---
★ Did You Know? Have you or anyone you know ever owed debt or outstanding fees directly to your college and, as a result, experienced harmful debt collection practices such as not being able to enroll in classes? Did you know that the financial burden from this form of "shadow or institutional debt" is something NextGen is working to address and reform? You can make a difference – take our survey today to uplift your story and make your voice heard!
★ Team Member Spotlight: Last month, NextGen's Elena Santamaria, Partnerships Manager and Senior Policy Advisor, joined fellow health and consumer advocates as well as the Care4All California Coalition at the State Capitol to rally for health care equity, access, and affordability! Learn more about NextGen's work to provide Californians with quality and affordable healthcare as well as mental health services, regardless of income.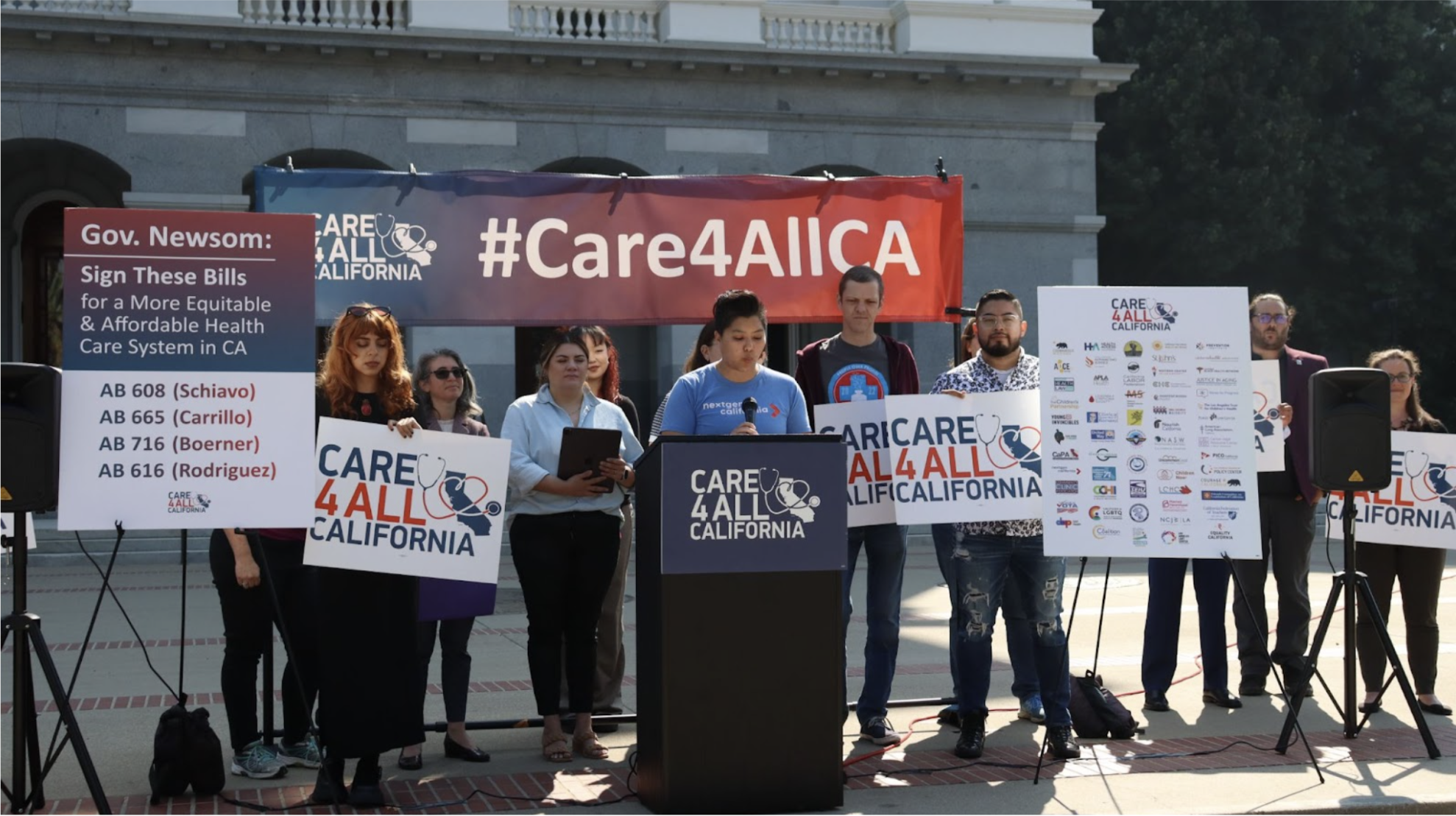 ★ What's Next: With the legislative session officially wrapped up, get ready to learn more about other exciting NextGen projects and programs! These include our Affordable Connectivity Program (ACP) events taking place around the state, Student Loan Debt Workshops being held both virtually and in-person, and much more. We'll be sharing all the must-know information with you in the weeks ahead, stay tuned!
★ Our Mission: NextGen Policy fights for progressive policy change to address environmental, social, racial, gender, and economic inequities through justice-centered legislative advocacy, grassroots partnerships, and democratic civic engagement.
Thank you for being a part of our journey toward a more equitable California. As we continue to push for progressive policy change, we invite you to make a difference by donating to support our organization. Your contribution will directly impact our efforts to address environmental, social, and economic inequities throughout the state.
Thank you,
NextGen Policy