May 22, 2023
May has been a very busy, exciting, and productive month – across all aspects of our policy, advocacy, and program work – for the NextGen Policy team! Last week, the Governor released the update to his January budget proposal – also referred to as the May Revise. Although the May Revise reflects a significant downturn in state revenues, the NextGen team was pleased to see that the updated budget proposal, though dire in its deficit projections, still continues to value, support, and prioritize equity and justice focused program and policy solutions. Last week, we were also pleased to see that one of our newest NextGen team members was featured as a Rising Star in the Capitol Weekly. In this What's Next you will also receive information about the current status of the California Climate Commitment from our Climate 100 Project, as well as more bill and program news to help keep you in the loop! Here's What's Next at NextGen:
★ The Governor's May Revise is HERE!: On May 12th, Governor Newsom released the May Revise. 🚨 This year's May Revise budget reflects a significant multi-year financial deficit and proposes cuts, delays, and alternative funding options to weather this fiscal storm in the current year. Learn more about the details of the May Revise proposal and how the NextGen team will continue to advocate for solutions that will help address environmental, social, racial, gender, and economic inequities throughout our state, including:
Climate Investments: The Governor's May Revision maintains nearly $48 billion of last year's California Climate Commitment, after the package saw a $6 billion cut in the Governor's January proposal. Until the final budget is enacted, the current climate budget allocation remains at risk. California must continue to pursue a Climate Commitment that stays true to our climate goals, even during deficit years. Our Climate Policy Fellow Jamie Pew's response to the May Revise was recently featured on Capital Public Radio: "To see that the Administration is holding the line right now is, I think, a statement of their values — and from my perspective, it's a welcome one." Additionally, The Mercury News featured Jamie's response: "We were really expecting there to be another round of massive cuts to the climate budget." Keep a lookout for our Climate 100 Program's 2023-2024 May Revise analysis in the next few days!
Digital Equity: Governor Newsom remains committed to digital equity as the May Revise also maintains the roughly $6.5 billion for a multi-year broadband investment in middle and last mile infrastructure. We're excited to continue working with our partners at the California Alliance for Digital Equity (CADE) to advance various bills that will help close the digital divide and foster digital equity in our state.
Food Insecurity: Governor Newsom included an additional $300 million for School Meals for All, which will ensure that all students receive free school meals, regardless of income. We are working in SB 348 towards better nutrition standards for school meals by reducing sugar and sodium levels and, in addition, we are urging the Governor to expand access to healthy food by funding the LEAF Program created under SB 907, which will improve the use of CalFresh at as well as increase the number of farmers' markets throughout our state.
Student Debt: We're thankful for Governor Newsom's support of student borrowers and are thrilled with his decision to sign AB 111, which exempts critical federal student debt relief and loan cancellation programs from state taxes – more information on AB 111 below! California is once again leading the way when it comes to protecting student borrowers.
★ NextGen's Rising Star: Recently, NextGen's Education Policy Associate Kimberly Sanchez was featured in Capitol Weekly as a Rising Star! ⭐ We're beyond proud of Kimberly and her accomplishments, especially how she has been able to integrate her academic and lived experiences into her policy development, legislative advocacy, and grassroots organizing work at NextGen. We celebrate and truly appreciate her commitment to equity and justice for all California students.
★ Standing Up to Big Oil: With California facing a significant budget shortfall, it seems only fitting that state policymakers specifically examine tax advantages and other benefits provided to big oil and gas companies – some of the largest greenhouse gas emitters in the world – for elimination! 🛢️ Now more than ever, it's crucial that California remain committed to climate action by ending Big Oil subsidies and tax benefits.
---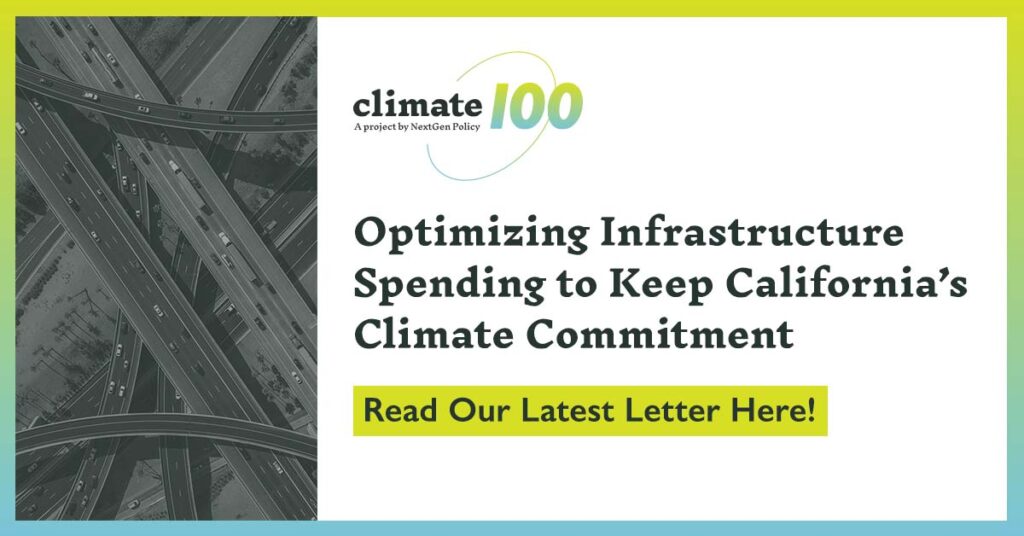 Despite state revenue shortfalls, additional resources in the form of federal infrastructure funding as well as state bond funding are on the horizon! The latest letter from our Climate 100 Project breaks down why our state must incorporate climate and equity goals into these investments:
---
★  Did You Know? On May 15th, we proudly joined our friends at the California Partnership to End Domestic Violence for Day 1 of their advocacy event in Sacramento! Together, with advocates from across California, we engaged with legislative offices on the program and resource needs of those in their communities who have been harmed by intimate partner violence, with a focus on prevention and intervention strategies.
★  Member Spotlight: A huge thank you to Governor Newsom, Senate pro Tem Atkins, and Speaker Rendon for taking early budget action to protect student borrowers by passing and signing AB 111 into law. This budget trailer bill exempts critical federal student debt relief programs from state taxes. We were proud to support AB 111 and stand with student borrowers – we must ensure that everyone receives the full financial benefit of loan forgiveness programs!
★  What's Next: In June, stay tuned for the What's Next email where we'll be sharing updates on floor votes on our priority bills, the status of budget negotiations, and much more – keep a lookout for more information and live reactions on Twitter!
★ Our Mission: NextGen Policy fights for progressive policy change to address environmental, social, racial, and economic inequities through justice-centered legislative advocacy, grassroots partnerships, and democratic civic engagement.
Thank you,
NextGen Policy