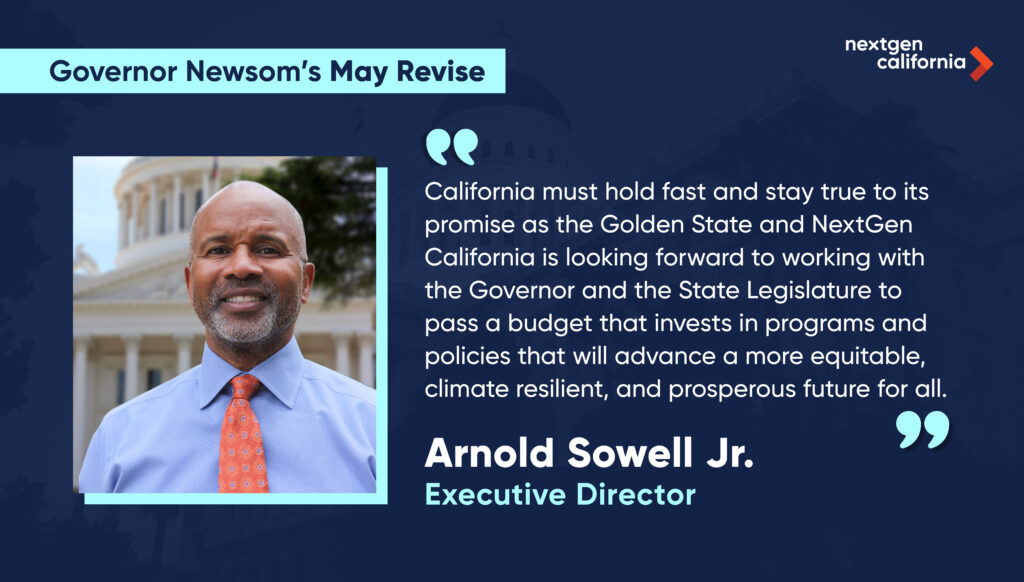 For Immediate Release: May 12, 2023
Contact: Robin Swanson, robin@swansoncomm.net
Amid significant statewide revenue shortfalls, Governor Newsom's May Revise puts forward a wide range of budget balancing solutions while still protecting our most vulnerable communities and remaining committed to the state's equity and climate goals.
SACRAMENTO – Today, NextGen California issued a statement responding to Governor Newsom's updated 2023-2024 January budget proposal – the so-called "May Revision". With a projected state budget deficit of an additional $9.3 billion, this year's May Revision puts forward a range of solutions to balance the budget. These proposed solutions to close the deficit follow several years of unprecedented budget surplus that saw historic investments to advance racial equity and climate justice, address food insecurity and the homelessness crisis, bridge the digital divide, improve our educational systems, and expand health care and mental health programs.
Statement from NextGen California Executive Director, Arnold Sowell Jr.:
"When it comes to advancing equity and justice for California's most vulnerable communities and families, many of whom are still recovering post-pandemic, there is no better value statement than our state budget. Governor Newsom's May Revise reflects the reality of a multi-year financial deficit; however, as a state, over the last several years, we have taken the steps to position ourselves to weather such fiscal storms. So, even in these tough times, Governor Newsom has remained committed to prioritizing resources and finding innovative solutions that will help us continue to address the pressing problems of economic inequality and climate justice," Sowell said. "California must hold fast and stay true to its promise as the Golden State and NextGen California is looking forward to working with the Governor and the State Legislature to pass a budget that invests in programs and policies that will advance a more equitable, climate resilient, and prosperous future for all."
NextGen California supports continuing to prioritize and advance solutions that will help California address racial and economic equity, including:
Racial Equity Commission:

NextGen worked with the Newsom Administration to enact an executive order which established California's Racial Equity Commission. The Commission is tasked with identifying, analyzing, and addressing issues of systemic and institutional racism in state government programs and policies. The Governor's January Budget proposal provided an initial round of resources to fund the work of the Commission and its staff. NextGen and our coalition partners will work to ensure that this initial level of funding is maintained and are ready to engage with the Commission to develop the meaningful actions necessary to fulfill its mission.
Solving Food Insecurity:

We thank Governor Newsom for fully funding California's first-in-the-nation School Meals for All program, even including an additional $300 million in support of providing all students with two free meals per day. While we understand the current fiscal situation, there is always more work to be done on fighting food insecurity and look forward to working with the Governor to secure funding for SB 907 (Pan), the Local Equitable Access to Food Program (LEAF), which will expand access to CalFresh at farmers' markets and increase the number of farmers' markets in low-income communities. In addition, NextGen is seeking to secure $35 million to continue funding the California Nutrition Incentive Program (CNIP) which helps stretch the dollars provided for nutrition benefit programs for low-income Californians.
Climate Justice:

We thank Governor Newsom for standing by his commitment to tackle the climate crisis and not proposing further cuts to the historic Climate Budget Commitment in his May Revision. The May Revise reflects the Newsom Administration reaching for new tools in the budget toolbox including increased efforts to draw down federal funds and a climate bond. NextGen has proposed several recommendations that will help facilitate the allocation of these significant infrastructure investment opportunities.
Digital Equity:

We thank Governor Newsom for his commitment to bridge the digital divide by continuing to retain the $6 billion multi-year broadband investment. NextGen has supported efforts to close the digital divide with equity centered solutions and looks forward to continuing this work with our close partners in the California Alliance for Digital Equity (CADE).
Protecting Student Borrowers:

We thank Governor Newsom for standing by student borrowers and including the provisions of the early budget action in AB 111 in the May Revise. We look forward to the signing of AB 111 to ensure any funds received for federal student loan forgiveness or debt cancellation under the American Rescue Plan Act (ARPA) are exempt from state taxes. This includes President Biden's student debt cancellation plan, which is currently before the Supreme Court, as well as additional financial support that students received during the pandemic.
NextGen California remains committed to working with the Newsom Administration, the State Legislature, and our diverse coalition of partners to advocate for and help advance policies that deliver on the promise of a more equitable, climate resilient, and prosperous future for all Californians.
###
The mission of NextGen California is to fight for progressive policy changes that address environmental, social, racial, gender, and economic inequities through justice-centered legislative advocacy, grassroots partnerships, and democratic civic engagement.