July 31, 2023
It's time for another issue of What's Next! We're excited to share that our website has been updated with our bill priorities as we head into the final weeks of the legislative session. Below we will also provide a more detailed update on a few of the bills that our team are supporting, discuss an opportunity to directly support our policy work, recap some of our team's recent actions to assist student borrowers, and describe all the incredible work our partners at TomKat Ranch are doing on regenerative agriculture. This is one issue you won't want to miss – so here's What's Next:
★ Check It Out – NextGen's 2023 Legislative Package: Our team now has a much clearer picture of the recently signed state budget and the funding allocations made in key health & human services, environmental, housing, and education programs. We're now focusing our attention on the final weeks of the legislative session. Visit NextGen's Priorities page to catch up on our complete legislative package and learn about the equity-focused bills we will be championing in the weeks ahead. Keep a lookout for opportunities to take action and help us support these crucial policy measures!
★ Criminal Justice – Asm Holden Breaks Down AB 280's Benefits: California has a huge opportunity to become a national leader on how to reframe the use of solitary confinement in our prisons, jails, and detention centers under the California Mandela Act (AB 280 – Holden). Hear directly from AB 280's author Asm Holden in Capitol Weekly as he explains why it's time for California to reform its solitary confinement practices.
★ Digital Equity – Learn Why We're Now Opposing AB 41: New amendments recently made to the Digital Equity in Video Franchising Act (AB 41) create a series of policy changes that will now make it more difficult for California communities to address the issue of digital equity and close the digital divide. NextGen has made the unfortunate yet necessary decision to now oppose AB 41. Despite this change in position, we will be continuing our efforts to provide equitable access to fast, affordable broadband service for all Californians!
---

As Californians, it's our duty to come together and advocate for equitable policies and solutions that help protect those most in need throughout our state. All donations directly support NextGen's efforts to make environmental, social, racial, gender, and economic justice a reality for all Californians.
Donate to support NextGen's work today!
---
★ Did You Know? Recently, NextGen's Legislative Director, Samantha Seng, participated at the Netroots Nation 2023 event in Chicago! Sam joined other partner organizations including the Student Borrower Protection Center, Young Invincibles, and Student Loan Fund for a panel discussion on what lies ahead for student borrowers and what work still needs to be done to help protect student borrowers across the nation.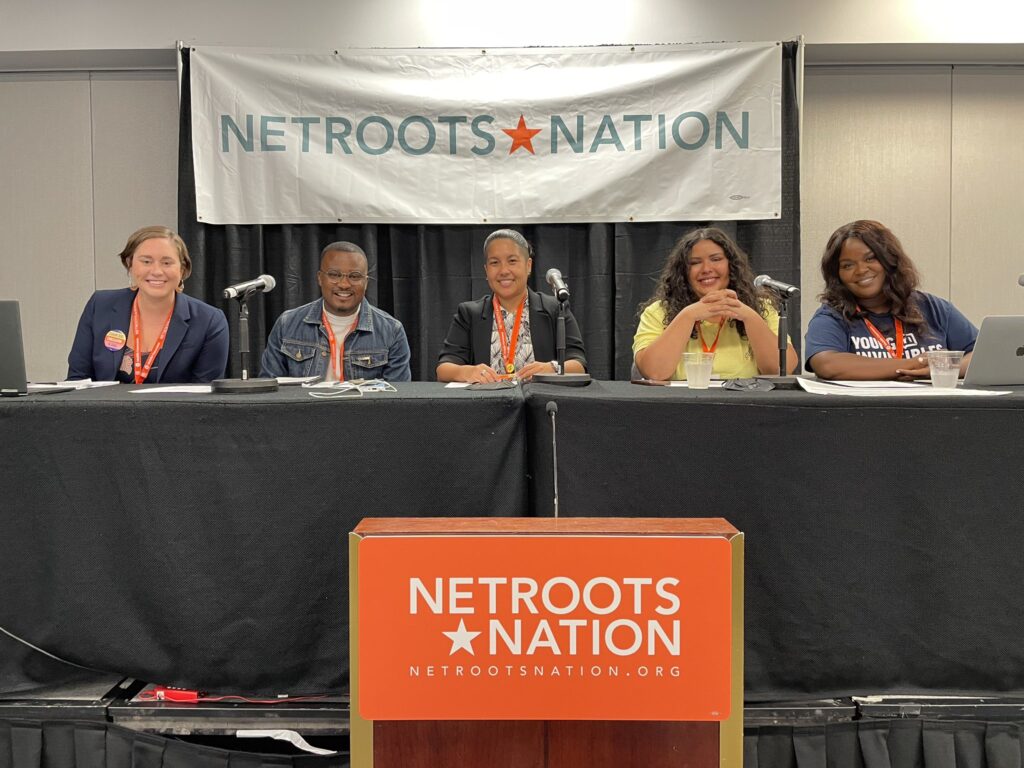 ★ Partner Spotlight: NextGen is proud to partner with TomKat Ranch, a mission-driven cattle ranch located in Pescadero, California that is working to change our food system through the practice of regenerative agriculture. Part of TomKat Ranch's mission is to encourage farmers and ranchers to adopt the regenerative agriculture model, which focuses on farming and ranching practices that are in harmony with nature – the ranch itself doubles as a science lab where regenerative agriculture practices can be extensively tested and studied. Check out the first installment in a five-part series focused on the work being done at TomKat Ranch and the practice of regenerative agriculture – the full series is available on Spectrum News' website!
★ What's Next: The Legislature is currently on their summer recess and will return on August 14th – upon their return, they'll have roughly one month to conclude their legislative work for this year. It's during this time that our legislative advocacy will ramp up! We'll be calling on you to take action and join our efforts to support our legislative priorities.
★ Our Mission: NextGen Policy fights for progressive policy change to address environmental, social, racial, and economic inequities through justice-centered legislative advocacy, grassroots partnerships, and democratic civic engagement.
Thank you,
NextGen Policy