August 15, 2022
We're in the final weeks of the 2021-2022 legislative session – August 31st is the deadline for the Legislature to pass bills as well as process any remaining budget issues. This means that the NGP team is moving full-speed ahead to ensure that our priorities advance and land on the Governor's desk. With the Appropriations Committee suspense deadline behind us, we now have a clear picture of the bills and budget items our team will focus on in the upcoming weeks. Please keep scrolling to read about what will capture NextGen's attention over the last half of August, including the California Student Debt Challenge, new initiatives in the fight against climate change, and much more!
★ Kicking-off the CA Student Debt Challenge: On August 8th, in collaboration with many of our higher education and consumer protection partners, we launched the California Student Debt Challenge (CA Challenge). The CA Challenge is a statewide educational and outreach campaign that will target public service workers with student loan debt and help them apply for Public Service Loan Forgiveness (PSLF).  The campaign is aimed at providing public service sector and non-profit employers with important PSLF program information to pass along to their employees. Thousands of Californians are eligible for public service loan forgiveness and it was an honor to have Governor Gavin Newsom, Attorney General Rob Bonta, and many other guest speakers join us in launching the CA Student Debt Challenge and help raise awareness about the PSLF program.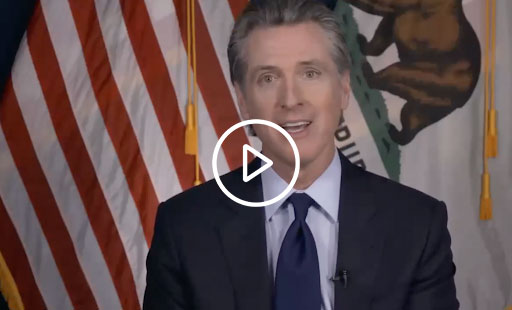 Governor Newsom shouts-out NextGen Policy at our
California Student Debt Challenge launch event!
★ We're Going BIG on Climate: On August 9th, NextGen and a group of our environmental partners gathered at the State Capitol to encourage Governor Newsom and State Legislators to Go BIG on Climate – the time is now for California to take immediate action on climate, later is too late! Our own Senior Policy Advisor, Dave Weiskopf, spoke on the importance of California aligning every dollar of state budget spending with our climate goals, starting with passing AB 2438 (Friedman) which would ensure that transportation infrastructure investments help the state meet its climate goals. Check out this recent NBC interview featuring our Executive Director, Arnie Sowell Jr., and Senior Policy Advisor, Dave Weiskopf, to learn more about the federal climate bill as well as California's new climate initiatives.
---
SB 17 (Pan) establishes the Racial Equity Advisory and Accountability Commission to address structural and systemic racism in California government policies and programs. We need your help to ensure Governor Newsom prioritizes SB 17 this year!
Send a tweet to Governor Newsom letting him know you support SB 17!
---
★ Did You Know? Our own Executive Director, Arnie Sowell Jr, was recognized for his leadership and NextGen advocacy efforts as one of Capitol Weekly's Top 100 of 2022 List – what an outstanding accomplishment!
★ Member Spotlight: Send a tweet to thank Senator Limón and Assemblymember Bonta for declaring August as Student Loan Debt Awareness Month and helping us kick off our CA Student Debt Challenge
★ What's Next: We're happy to share that all 8 of our legislative priorities made it off the Assembly Appropriations suspense file and now these bills are headed to their respective floors for a final vote.
Aug. 25 – Last day to amend bills on the floor of each house
Aug. 31 – Last day for each house to pass bills
Sept. 30 – Last day for Governor Newsom to sign or veto bills that were passed by the Legislature on or before Sept. 1
---
Enjoying What's Next? Share with your family and friends to keep them in the loop!
---
NextGen Policy fights for progressive policy change to address environmental, social, racial, and economic inequities through justice-centered legislative advocacy, grassroots partnerships, and democratic civic engagement.
Thank you,
NextGen Policy