April 24, 2023
It's hard to believe that the end of April is just around the corner and, as always, the NextGen team has been hard at work. Already this month, we have seen lots of big legislative happenings and there are many opportunities ahead for you to get involved with our advocacy and policy work. This edition of What's Next shares updates on current budget and bill priorities, upcoming important events, some new informational resources, and a few calls to action that may interest you. Take a look what What's Next here at NextGen:
★ Take Action to Celebrate Earth Day: On Saturday, April 22nd, we celebrated Earth Day with all our partners on Twitter and collectively asked the Assembly and Senate Budget Committee Chairs – Assemblymember Phil Ting and Senator Nancy Skinner – to reaffirm their support for the $54 billion California Climate Commitment – the historic level of funding allocated in the 2022-23 state budget to address the climate crisis! Although Earth Day may have come and gone, every day presents a great opportunity to join in the fight against climate change. It's not too late to get involved – please share this ready-to-use tweet and ask them to voice their support for the California Climate Commitment!
★ Protecting Students from Creditor Colleges: We recently joined Assemblymember Pacheco at the State Capitol for a press conference to introduce AB 1160 – The Protecting Students from Creditor College Act! This important piece of legislation protects California college students from the educational barriers and economic problems associated with institutional debt, an issue that really came to light over the pandemic and can prevent students from re-enrolling and completing their higher education. You can help protect the thousands of students who carry institutional debt from financial harm by tweeting at the Assembly Higher Ed Committee and asking for their support of AB 1160!
★ SB 348 Provides Healthy School Meals for All: We're pleased to share an exciting victory in the fight for healthy school meals and against childhood hunger!  The Healthy School Meals for All Act (SB 348 – Skinner) unanimously passed the Senate Human Services Committee last week, bringing us one step closer to raising the health standards for school meals that meet the requirements recommended by pediatricians and nutritionists for K-12 students. Stay tuned for more updates on SB 348 as it heads to the Senate Appropriations Committee next!
---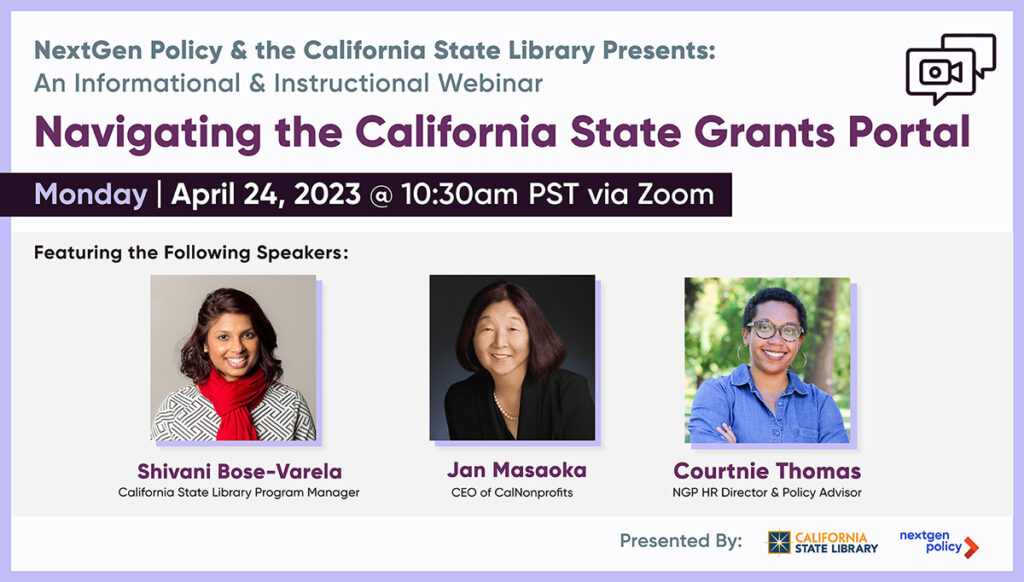 Today at 10:30 am PST, we're holding our California Grants Portal Webinar – which will provide in-depth information on best practices for using the state's Grants Portal! Please join the NextGen team and our co-hosts, the California State Library and CalNonprofits, as we answer your questions on how best to access available grants.
---
★  Did You Know? Last year, the California Youth Empowerment Commission was established to provide our state's youth with a unique civic engagement opportunity.  The Commission will make recommendations to the Legislature, Superintendent of Public Instruction, and Governor Newsom on specific legislative and fiscal issues affecting California's youth. The Commission will include 13 individuals between the ages of 14-25, and is currently accepting applications – interested applicants are encouraged to check the requirements and apply before the October 21st deadline!
★  Member Spotlight: We're proud to announce the newest addition to NextGen's Board of Directors, Tia Boatman-Patterson! In addition to serving on our board, Tia is the President and CEO of the California Community Reinvestment Corporation. Check out her official bio to learn more about her incredible work and achievements!
★  What's Next: Next month, the May Revise will be released! The May Revise is an update to the Governor's January 2023-24 State Budget proposal and an important part of the state budget process as it reflects projected changes to the state's financial outlook and often presents new programs and initiatives. The reality is that the state's fiscal picture is not looking great but we will have to wait for more detailed information in the weeks ahead once the May Revise is released!
★ Our Mission: NextGen Policy fights for progressive policy change to address environmental, social, racial, and economic inequities through justice-centered legislative advocacy, grassroots partnerships, and democratic civic engagement.
Thank you,
NextGen Policy