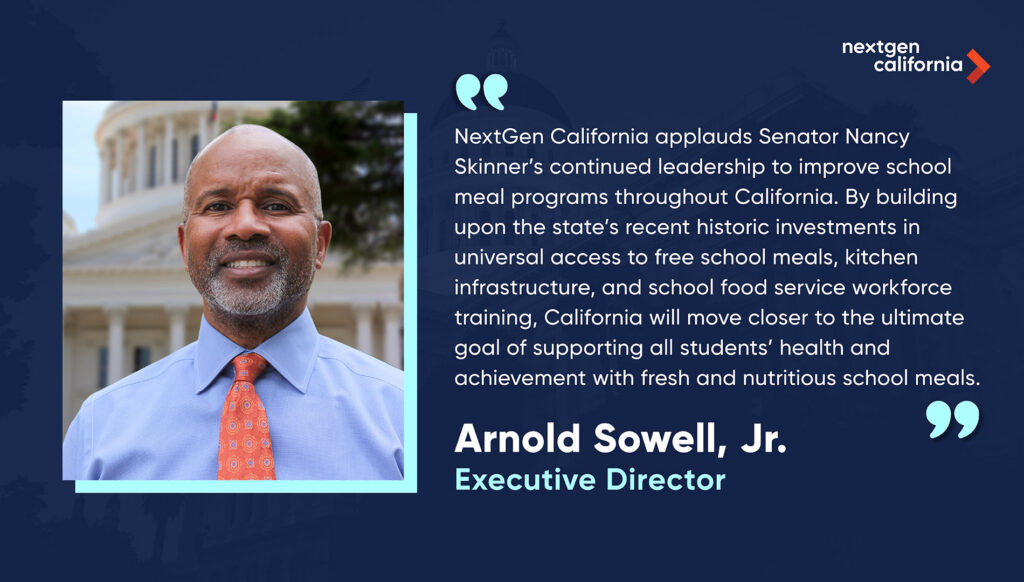 FOR IMMEDIATE RELEASE
February 8, 2023
Contact: Jonathan Underland
(856) 842-6757; jonathan@paschalroth.com
Sacramento, CA – Senator Nancy Skinner (D-Berkeley) today introduced SB 348, landmark legislation aimed at ensuring that every California student has access to more nutritious, California-sourced, freshly-prepared meals each school day with less added sugar and more time to eat. 
"The newly proposed national school nutrition standards are a much-needed step to ensure that all American children can access healthy school meals. Now that California provides our K-12 students two free meals a day, we want those meals to be healthy and not contribute to health complications like diabetes, which is now the most common chronic disease among school-age children," Senator Skinner said. "SB 348 will ensure that California's school meals are nutritious and that California is a national leader in the fight against diabetes. With our abundance of delicious, fresh-grown, nutritious food, California should have the nation's healthiest children, and SB 348 will put the needs of kids first."
Pediatricians and nutritionists have long established that there are two criteria necessary for improving the health and education outcomes for school-aged students: 1) access to higher-quality, more nutritious meals, and 2) adequate time for students to choose and consume meals at school. According to health professionals, children who consume less than 25 grams of added sugar per day are more likely to experience better health outcomes.
SB 348 expands on California's landmark School Meals For All policy and funding, which guarantees free, nutritious breakfast and lunch each school day for all students, regardless of family income. The introduction of this bill comes as the USDA advances its first-ever proposal to limit sugar in school meals.
"It's imperative that we provide every child in our schools with the resources necessary to reach their highest potential, and nourishment is critical," said Kat Taylor, Co-founder of TomKat Ranch, which co-sponsored School Meals for All. "Too many families are struggling with the soaring costs of groceries, rent, and utilities. This bill supports learning by offering every child at least two freshly-prepared meals with lower amounts of added sugar and adequate time to focus on fueling their minds and bodies."
"As a physician, I have seen the negative impact that poor nutrition during childhood and adolescence can have and, conversely, how healthy, nutritious meals allow our kids to thrive. Children consume nearly twice the recommended limit of added sugars a day. This bill will ensure that the meals they receive in school are healthy, will help establish a foundation for a lifetime of healthy behaviors, and will reduce the risk of cardiovascular diseases for our next generation," said Mary Ann Bauman, M.D., President, Western States Board of Directors, American Heart Association.
"The American Diabetes Association's (ADA) believes all Americans have the right to healthy nutritious foods and that nutrition is a key component in preventing the onset of prediabetes and delaying or averting the evolution of prediabetes into diabetes," said Lisa Murdock, Chief Advocacy Officer, American Diabetes Association. "As such, the ADA is proud to support Senator Skinner's legislation calling for California to establish improved nutritional standards for school meals for California's children. More than 4 million Californians have diabetes and another 10.3 million have prediabetes and are at increased risk for development of the disease. It's time that California makes changes to reduce the burden of diabetes on future generations in our state."
"We are thrilled to see this bill introduced, as it is a crucial step towards strengthening School Meals for All and ending childhood hunger," said Becky Silva, Government Relations Director, California Association of Food Banks. "All children should have adequate time to eat during their busy school days, robust options for accessing meals during the summer months when schools are closed, and be nourished by healthy meals while they're at school. Access to food is a basic human right."
"NextGen California applauds Senator Nancy Skinner's continued leadership to improve school meal programs throughout California," said Arnold Sowell, Jr., Executive Director, NextGen California. "By building upon the state's recent historic investments in universal access to free school meals, kitchen infrastructure, and school food service workforce training, California will move closer to the ultimate goal of supporting all students' health and achievement with fresh and nutritious school meals."
"No child in our great state should ever go hungry – ever," said Shimica Gaskins, President and CEO, GRACE/End Child Poverty CA. "We are thrilled to support Senator Skinner's continued leadership to make that value a reality, building on her historic school meals for all to further improve access to child nutrition programs whether school is in or out of session. School breaks, like the long summer period, and when disasters strike, are some of the hungriest times for children. We are proud to support this bill that would provide comprehensive critical policy to ensure children have access to healthy food when they need it most."
"Families throughout the Central Valley, many of whom tend to our fruits and vegetables, greatly benefit from school meal programs. It is critical that we continue to strengthen these essential programs, and Senator Skinner's bill does just that," said Dolores Huerta, Founder, Dolores Huerta Foundation. "DHF Parents and students from across 17 districts have repeatedly expressed the need to improve the quality of school meals, such as increasing nutritious options and reducing sugar. This bill would ensure that EVERY student is well fed and set up for success in schools. Si Se Puede!"
"FoodCorps is honored and excited to support legislation that would build on the success of School Meals for All in California," said Curt Ellis, Co-Founder and CEO, FoodCorps. "School meals are essential to nourishing our state's children; ensuring that they have enough time to eat those meals is critical. Let's not rush our kids' nutrition!" 
###