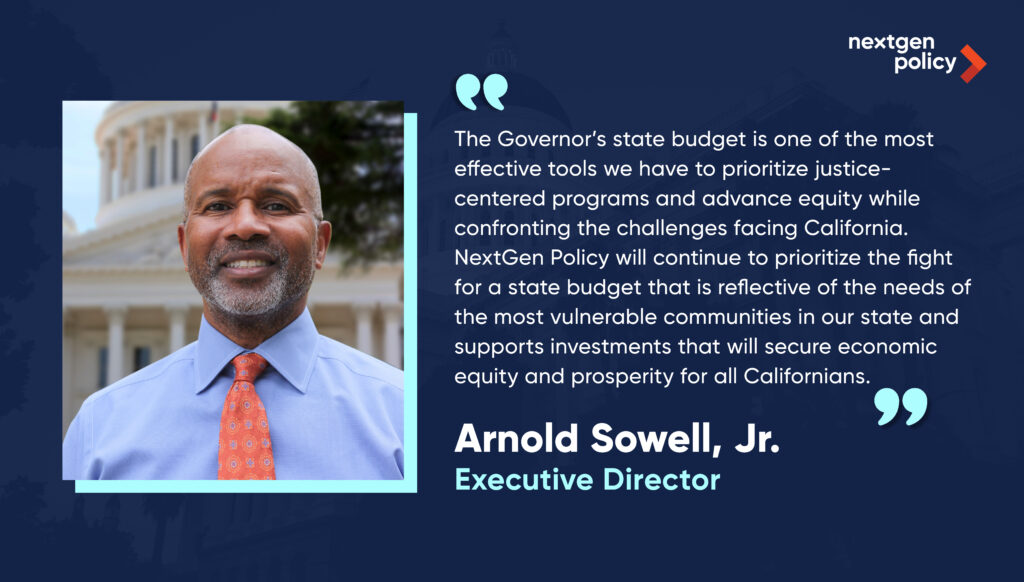 For Immediate Release: January 10, 2023
Contact: Milena Paez, milena.paez@nextgenpolicy.org
SACRAMENTO – Today, Governor Newsom announced his 2023-24 state budget proposal. NextGen Policy is encouraged by the Governor and his team's continued commitment to providing equitable opportunities for all Californians and for focusing this year's budget priorities on areas that align with our values, including addressing racial equity, climate change and clean energy, health for all regardless of immigration status, the student debt cancellation tax exemption, as well as housing and food insecurity.
Statement from NextGen Policy Executive Director, Arnold Sowell Jr.:
"The Governor's state budget is one of the most effective tools we have to prioritize justice-centered programs and advance equity while confronting the challenges facing California. NextGen Policy will continue to prioritize the fight for a state budget that is reflective of the needs of the most vulnerable communities in our state and supports investments that will secure economic equity and prosperity for all Californians." Sowell said. "Despite a budget deficit for fiscal year 2023-24, we're happy to see that the proposed state budget calls for $3.8 million for the state's first Racial Equity Commission and a commission on youth empowerment, a $1.4 billion investment for universal access to subsidized school meals and to ensure all students will have access to two free meals each day; a provision to ensure 3.5 million student loan borrowers see the full benefit of student debt cancellation through exemption from state taxation, and no proposed cuts to the state's Broadband for All Initiative or the progress made last year to provide healthcare for all regardless of immigration status. However, though significant investments remain, we're disheartened to see an almost $6 billion reduction in climate funding this year — as we believe it's imperative we stay vigilant in our policy and funding efforts to address climate change."
Statement from NextGen Policy Senior Climate Policy Advisor, David Weiskopf:
"Revenues and discretionary budgets go up and down year-to-year. The Governor has attempted to balance some difficult tradeoffs in this proposed budget, but losing $6 billion in climate funding unquestionably hurts the state more in the long term than it saves in the near term. This is exactly the dynamic that NextGen hopes to help the state overcome with our Climate 100 project: climate needs to be central to every agency's mission and budget. Until we adopt a more comprehensive approach, the fate of our state remains tied to the hope that we have only good budget years.
With California in the midst of yet another federal state of emergency due to the extreme weather patterns resulting from climate change, we are reminded that ignoring the problem will not make it go away. Investing in climate solutions is the only way to ensure a better California for all who live here."
NextGen Policy is committed to working with the Newsom Administration, the State Legislature, and our various coalition partners to ensure these investments prioritize equity and justice and serve our most marginalized and vulnerable community members. This year's budget is a reflection of California's values and highlights several investments we can make to build a more prosperous and sustainable state for all.
###
The mission of NextGen Policy is to fight for progressive policy change to address environmental, social, racial, gender, and economic inequities in California through justice-centered legislative advocacy, grassroots partnerships, and democratic civic engagement.