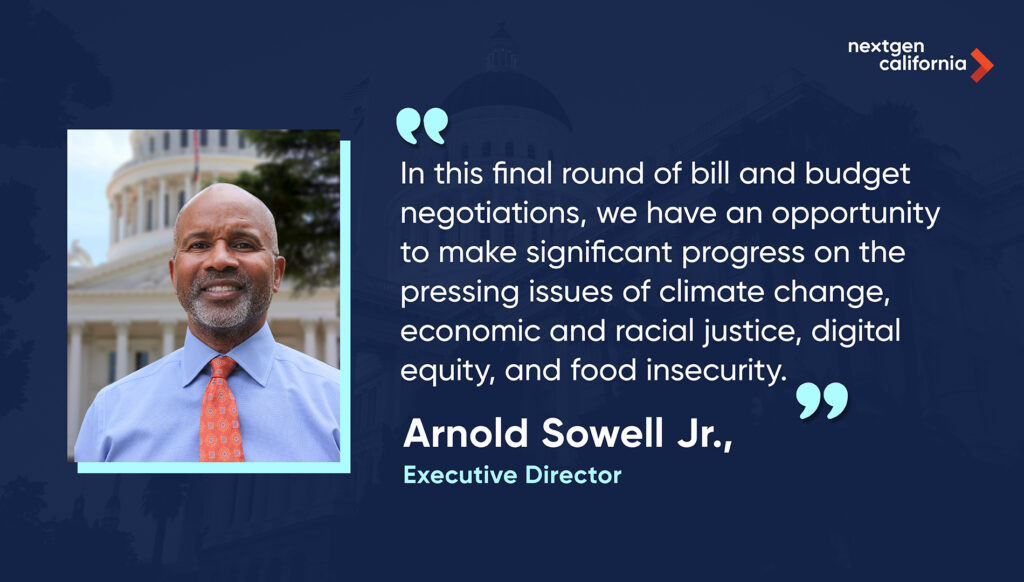 For Immediate Release: August 4, 2022
Contact: Robin Swanson, robin@swansoncomm.net 
Policy changes and budget investments related to economic, digital, and racial equity as well as food access, criminal justice reform, and bold climate action top the list of priorities for NextGen
SACRAMENTO – Today, NextGen California released a statement on their bill and budget priorities for the final month of the legislative session. The 2021-22 legislative session ends on August 31 and in these final weeks NextGen will push for passage of and funding for issues that address racial equity, food access, criminal justice reform, digital equity, and climate action.
Statement from NextGen California Executive Director, Arnold Sowell Jr.:
"As the legislative session winds to a close, NextGen's advocacy efforts will be focused on budget solutions and policy changes that will help California advance justice and equity throughout all California communities. In this final round of bill and budget negotiations, we have an opportunity to make significant progress on the pressing issues of climate change, economic and racial justice, digital equity, and food insecurity. California's leadership in these key policy areas stands to make real impacts and lasting change, and NextGen looks forward to working with the Legislature, Governor, and our coalition partners on getting these critical issues across the finish line by the end of the legislative session."
NextGen California is prioritizing and calling on the Governor and Legislature to tackle the following bills and budget investments during the last month of the 2021-2022 legislative session:
NextGen California is committed to working with the Newsom Administration, the State Legislature, and our diverse coalition of partners, to raise the bar on progress by securing a final California State Budget that promises to deliver a prosperous and equitable future for all Californians.
###
The mission of NextGen California is to fight for progressive policy change to address environmental, social, racial, gender, and economic inequities in California through justice-centered legislative advocacy, grassroots partnerships, and democratic civic engagement.