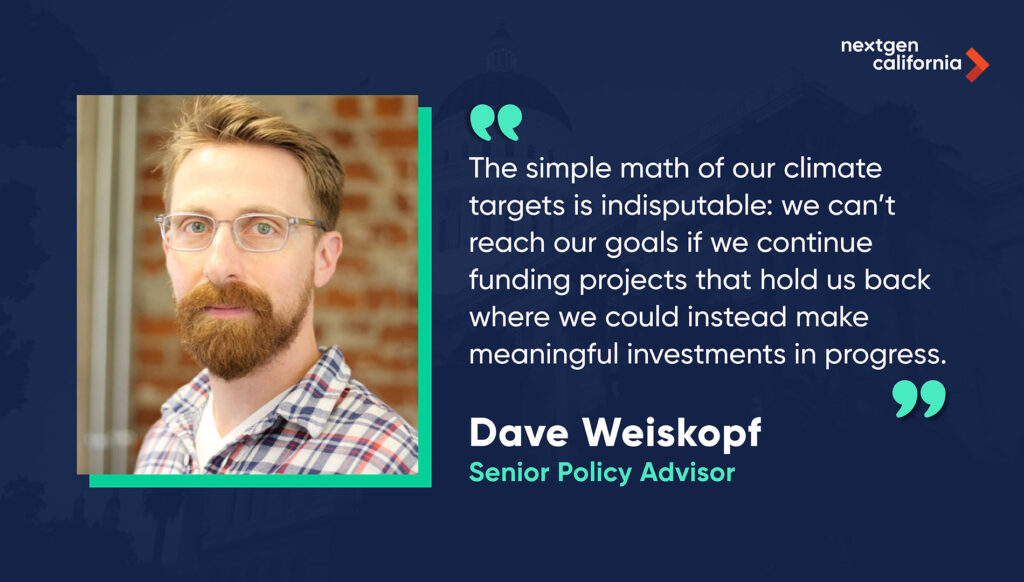 For Immediate Release: September 29, 2022
Contact: Milena Paez, milena.paez@nextgenpolicy.org
SACRAMENTO – Today, NextGen California issued a statement expressing disappointment with Governor Newsom's decision to veto AB 2438 (Friedman), which would have required the State to align transportation spending with the Climate Action Plan for Transportation Infrastructure. 
Statement from NextGen California Senior Policy Advisor, David Weiskopf: 
"Every year, California spends billions of dollars in state and federal funds on transportation projects that limit options for how Californians can get around, create worse traffic and longer commutes, and increase pollution burdens for the state's most vulnerable residents and communities of color. AB 2438 would have created vital safeguards against using transportation dollars in a way that reinforces the inequitable status quo. The simple math of our climate targets is indisputable: we can't reach our goals if we continue funding projects that hold us back where we could instead make meaningful investments in progress. Every delay in implementing climate solutions means that we must come back with bigger and bolder solutions next time, and this is no exception. We look forward to working with the Governor and Legislature in coming years to ensure we are working to address the climate crisis with every part of the state's budget, including especially our transportation spending." 
###
The mission of NextGen California is to fight for progressive policy change to address environmental, social, racial, gender, and economic inequities in California through justice-centered legislative advocacy, grassroots partnerships, and democratic civic engagement.