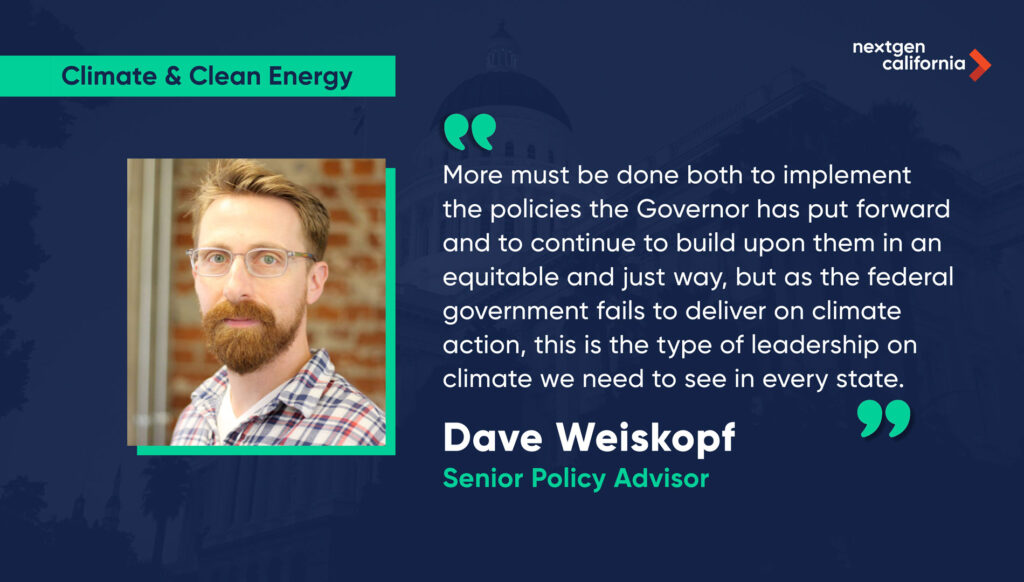 For Immediate Release: July 22, 2022
Contact: Milena Paez, milena.paez@nextgenpolicy.org 
SACRAMENTO – Today, NextGen California issued a statement thanking Governor Newsom for his direction to the California Air Resources Board to update its Draft Scoping Plan Update to reflect a clear path to achieve our 2030 climate goal and to incorporate several actions his administration intends to pursue, which reflect bolder actions than outlined in the draft plan.
Statement from NextGen California Senior Policy Advisor, David Weiskopf:
"There is no more important function of the Scoping Plan than to shine a light on what concrete actions California must take in order to actually achieve its climate targets. While the Draft Plan fails to provide sufficient detail to give the public confidence that California has a plan to more than triple its rate of cutting carbon – which is what is needed to meet our 2030 40% reduction target – the steps Governor Newsom offers here and the historic $54 billion climate commitment in this year's budget get us much closer to making that a reality. 
More must be done both to implement the policies the Governor has put forward and to continue to build upon them in an equitable and just way, but as the federal government fails to deliver on climate action, this is the type of leadership on climate we need to see in every state."
###
The mission of NextGen California is to fight for progressive policy change to address environmental, social, racial, gender, and economic inequities in California through justice-centered legislative advocacy, grassroots partnerships, and democratic civic engagement.