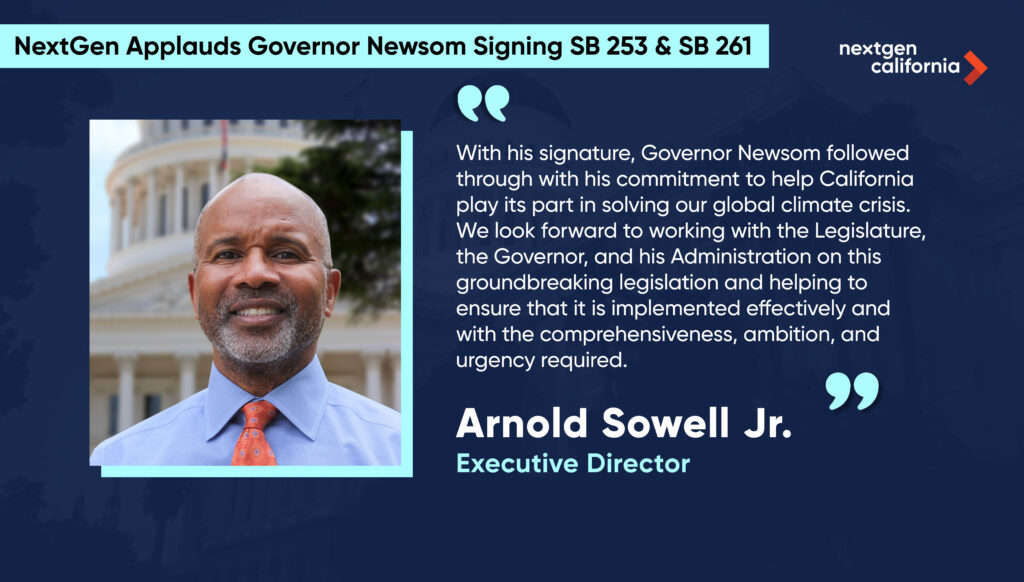 For Immediate Release: October 9, 2023
Contact: Tyler Bushnell, tyler.bushnell@nextgenpolicy.org
Statement from NextGen California's Executive Director, Arnold Sowell Jr.:
"Once again, California is stepping up as a national climate leader by requiring polluters to take full responsibility for their actions and report the entirety of their greenhouse gas emissions", said Arnold Sowell Jr., Executive Director for NextGen California. "With his signature, Governor Newsom followed through with his commitment to help California play its part in solving our global climate crisis. SB 253 (Wiener): the Corporate Climate Accountability Act, and SB 261 (Stern): the Climate-related Financial Risk Disclosure Act – will allow California to hold the state's worst polluters accountable and reduce harmful greenhouse gas emissions. We look forward to working with the Legislature, the Governor, and his Administration on this groundbreaking legislation and helping to ensure that it is implemented effectively and with the comprehensiveness, ambition, and urgency required – do note that we just learned that September temperatures broke all records and will likely make 2023 the hottest year ever recorded.
On behalf of the entire NextGen team, we thank Governor Newsom and the State Legislature for putting people over profits in the name of equity, progress, and climate justice."
###
 The mission of NextGen California is to fight for progressive policy change to address environmental, social, racial, gender, and economic inequities in California through justice-centered legislative advocacy, grassroots partnerships, and democratic civic engagement.