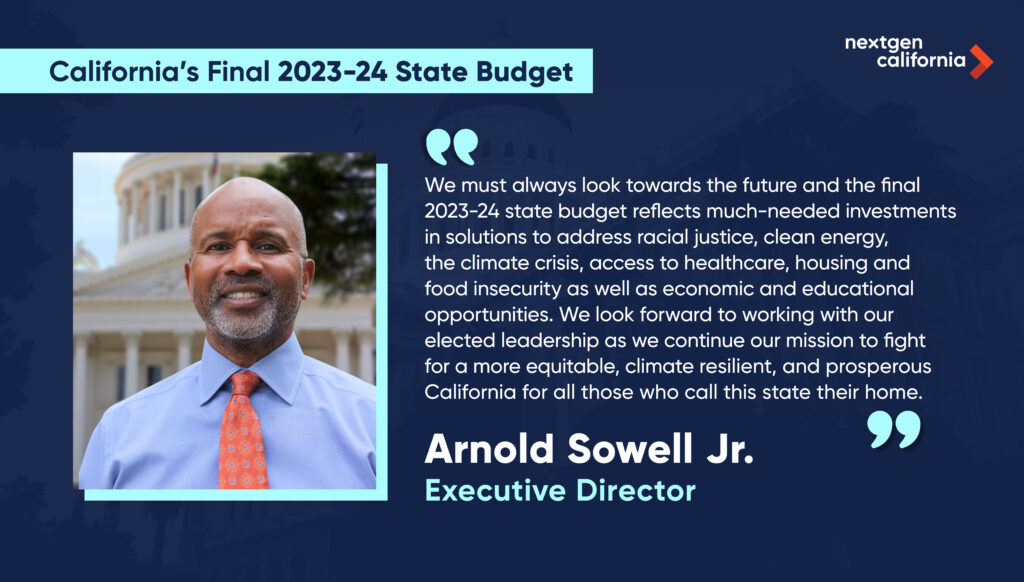 For Immediate Release: July 10, 2023
Contact: robin@swansoncomm.net
NextGen applauds Governor Gavin Newsom and the California Legislature for their continued commitments to an equitable future for all Californians.
SACRAMENTO – Today, after weeks of negotiation with legislative leaders, Governor Newsom signed into law the 2023-24 state budget. Given the state's stark fiscal outlook, the NextGen California team truly appreciates the effort our state leaders made to protect our most vulnerable populations, provide economic and educational opportunities for all Californians, and keep the state on track in our fight against climate change.  Investments in this year's budget that align with our priorities and values, include funding for racial equity programs, clean energy and environmental stewardship, healthcare, mental health treatment, and to combat food and housing insecurity.
Statement from NextGen California Executive Director Arnold Sowell Jr.: "Given the state's budget deficit, on behalf of the entire NextGen team, I commend Governor Newsom and the Legislature for doing their best to put people, especially our most vulnerable Californians, first as they negotiated and finalized the state budget," said Sowell. "We must always look towards the future and the final 2023-24 state budget reflects much-needed investments in solutions to address racial justice, clean energy, the climate crisis, access to healthcare, housing and food insecurity as well as economic and educational opportunities. We look forward to working with our elected leadership as we continue our mission to fight for a more equitable, climate resilient, and prosperous California for all those who call this state their home." 
###
The mission of NextGen California is to fight for progressive policy change to address environmental, social, racial, gender, and economic inequities in California through justice-centered legislative advocacy, grassroots partnerships, and democratic civic engagement.