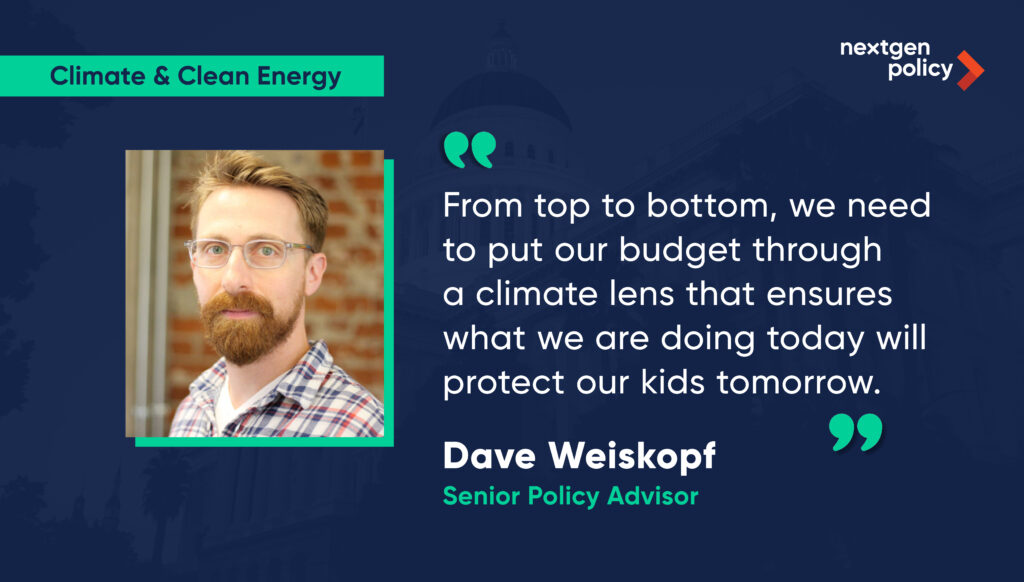 For Immediate Release: June 13, 2022
Contact: Milena Paez, milena.paez@nextgenpolicy.org 
 SACRAMENTO – Today, NextGen California issued a statement encouraging the state Legislature to meet California's climate commitment by prioritizing bold climate investments in California's state budget as soon as possible. With a projected historic budget surplus at the state's fingertips, if ever there was a time to make historic climate investments to combat the climate crisis, it is now.
Statement from NextGen California Senior Policy Advisor, David Weiskopf:
 "Today the legislature passed its main budget package, but virtually all climate spending is absent for now. Those details should be worked out in transportation and resources bills still to come for tens of billions of dollars in climate investments. This infusion of one time money is critical. It will bring about projects that will reduce our use of electricity and make our state more resilient. But, we need to see a change in the way we think about the budget. From top to bottom, we need to put our budget through a climate lens that ensures what we are doing today will protect our kids tomorrow."
  ###
The mission of NextGen Policy and NextGen California is to fight for progressive policy change to address environmental, social, racial, gender, and economic inequities in California through justice-centered legislative advocacy, grassroots partnerships, and democratic civic engagement.