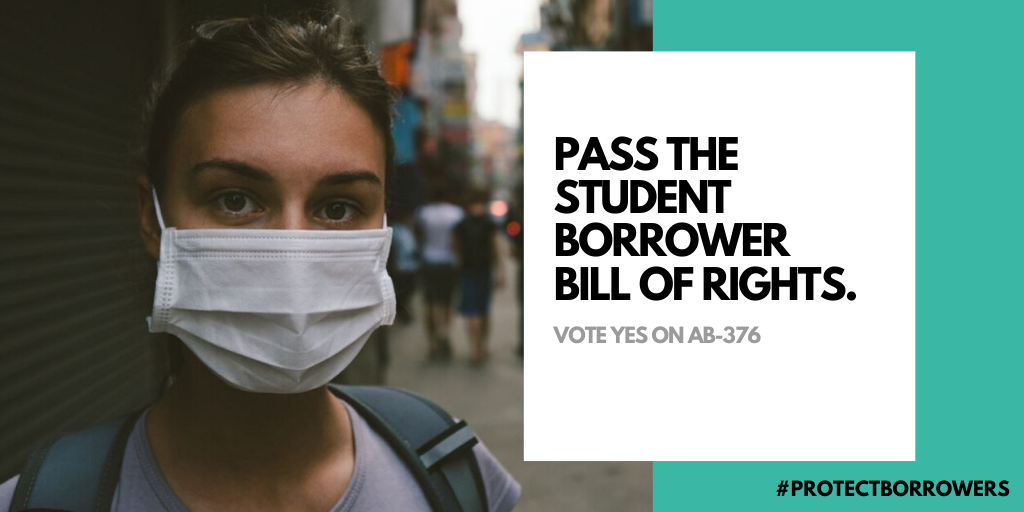 As millions of Californians struggle financially under the weight of student loan debt and the economic setbacks caused by COVID-19, we need financial security more than ever before. That's why we support the Student Borrower Bill of Rights (AB 376, Stone), a bill that will ensure that student loan servicers are held accountable, demand transparency and provide student loan borrowers meaningful access to loan repayment and forgiveness programs. It also establishes the Student Borrower Advocate position in order to provide timely assistance to any borrower facing issues with their student loan.
---
California could be the first state in the nation to provide basic consumer protections against predatory student loan servicers – but this groundbreaking legislation is at risk of being blocked in the Legislature and we need YOUR help to protect it! 
---
Take Action & help pass The Student Borrower Bill of Rights!
In just a few clicks you can tweet at our state legislators, email your representative or tell us your own borrower story. Join the fight against predatory student loan practices!
---
Helpful Resources for Student Loan Borrowers 
If you are in need of reliable and trustworthy information regarding your student loan you can Explore These Helpful Online Student Loan Debt Resources provided by our partners.
Thank you for doing your part to ensure higher-ed degrees don't become a lifetime debt sentence. #YesonAB376!
---