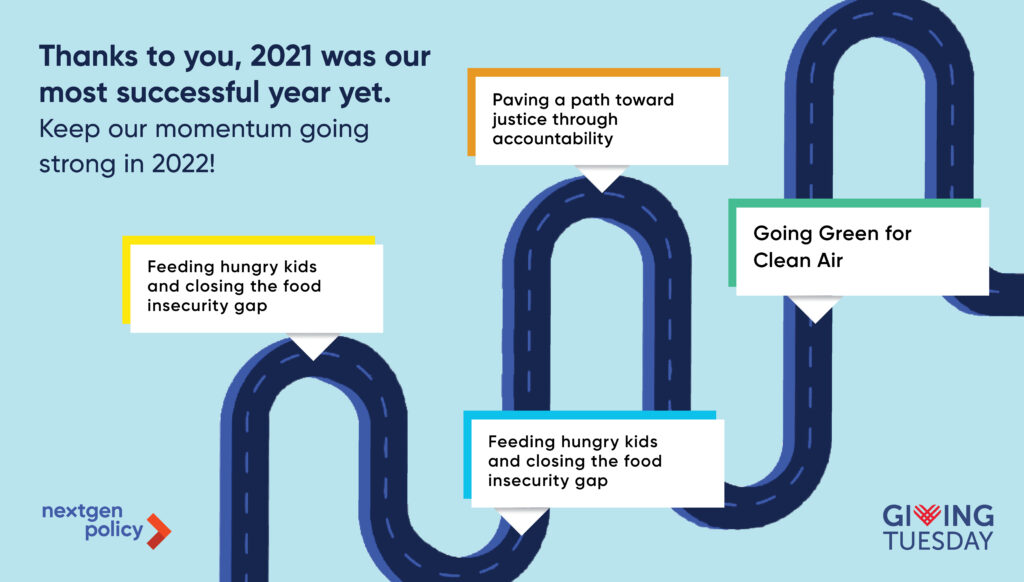 We believe in the power of people and organizations coming together to transform California.  With the support of partners like you, NextGen Policy stood up to corporate special interests and successfully advocated for and advanced policy changes that directly address environmental, social, racial, and economic inequities. Together, we achieved huge wins in the fight for equity and justice. Let's look back on all we accomplished this year and please join the millions of people who give, collaborate, and celebrate generosity on this Giving Tuesday!
Team NextGen's Fight Towards Justice, Equity and Progress in 2021
Feeding hungry kids and closing the food insecurity gap.

We helped California become the first state in the nation to provide its students with two free healthy school meals each school day. Six million K-12 students will now have access to locally-sourced nutritious meals thanks to the enactment and funding of the Healthy School Meals for All program in the state budget.

Getting California connected.

 

We were a key partner in the coalition that secured a historic $6 billion investment in broadband infrastructure that will connect communities without access or with limited access to reliable, high-quality Internet service to telehealth, distance learning, e-commerce, and other essential services.
Paving a path toward justice through accountability.

We successfully advocated for bills that will hold bad actors accountable for their actions. SB 2:

The Kenneth Ross Jr. Police Decertification Act, will allow the decertification of law enforcement officers who commit serious misconduct and violate a person's civil rights. Similarly, we supported SB 352: Sexual Assault in the Military, which makes sexual harassment a stand-alone offense in California's incorporation of the Uniform Code of Military Justice.

Going green for clean air.

This year, during an especially brutal wildfire season, we partnered with the United Latinos Green Team to engage a network of neighbors, churches, and civic groups to advocate for environmental policies that will improve air quality in low-income neighborhoods. Together, we delivered emergency indoor air filters to vulnerable families and secured South Sacramento's first professional-grade air quality monitor, so that residents could have accurate information about the air pollution levels in their communities.
These are just some of the highlights, for a full list check out our legislative wins and partnership activities. 
The fight continues in 2022! While we are proud of the progress we made this year, let's use our victories to re-energize and recommit ourselves to the work yet to be done. Your contributions are needed more than ever as we fight to ensure our elected leaders put people over profits and truly build back better! Next year, California has the opportunity to secure more funding for programs and initiatives that will improve our education and healthcare systems, reform our criminal justice system, provide more affordable housing, fight climate change, and more. Your generosity will give us the power to achieve a more just and equitable California for all. 
We thank you for your continued support. Onward. 
Sincerely,
The NextGen Policy Team