By Dave Weiskopf, Senior Policy Advisor
Check out our latest report – California at a Crossroads 
We've all been stuck in traffic during rush hour. Most of the cars around you are transporting just one person to and from their place of work and everyone stuck in the congestion wishes there was a better way to get around. In California, the default approach to easing congestion has been to add lanes to freeways or build new roads. 
But freeway expansion has a long history of harming communities of color, undermining progress on climate change progress, and doing nothing to actually reduce traffic or shorten commutes. Environmental racism has been entrenched within our transportation system for decades and will continue to burden the same disadvantaged communities if state agencies do not commit to undoing the policies behind these racial and public health disparities – building more freeways. 
It's time to leave freeway expansions in the past and adopt a better, more equitable approach. 
As the California Air Resources Board develops its Scoping Plan – a roadmap for how the state will cut greenhouse gases 40% by 2030 and achieve carbon neutrality by 2045 – NextGen California calls on the Agency to plan for a major shift in how we all get around. The transportation sector is California's largest source of greenhouse gases by far. And while switching to electric vehicles will solve part of the problem, we won't be able to meet our climate targets without also building better and safer infrastructure for walking and biking, investing in affordable housing near public transit, and taking other steps to give Californians better alternatives to driving alone in traffic.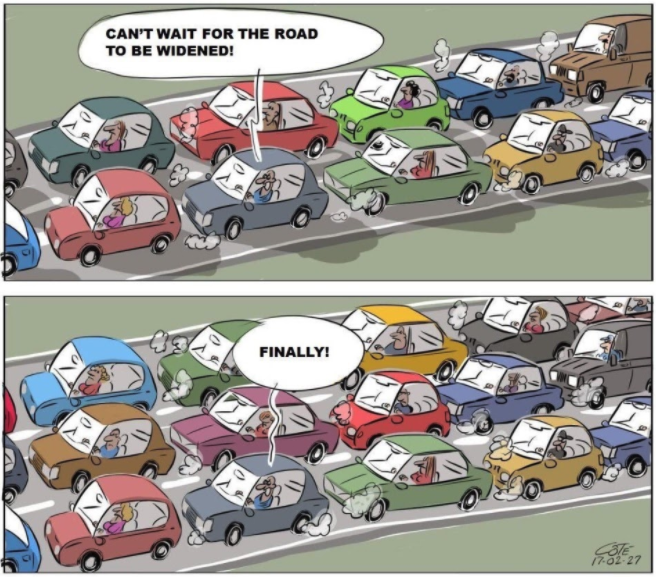 The reality of road widening projects. Cartoon via @NACTO Twitter
The Air Resources Board's most recent Scoping Plan Update, in 2017, lacked a specific strategy to help Californians access alternatives to driving, but the 2017 plan did assume that a big chunk of pollution reductions would come from a significant reduction in how much we all drive. This mismatch means that the 2017 plan underestimated how hard it would be to cut global warming pollution, so legislators and the general public might not have known how urgently they must act.
Today, California is not on track to cut transportation pollution enough to meet our goal of reducing greenhouse gases 40% by 2030. In fact, freeway expansions continue, people have longer commutes, Black and Brown communities continue to be harmed by road expansions and tailpipe pollution, and Californians are driving as much or more today than they were before the pandemic began. 
To begin to address these problems, the 2022 Scoping Plan Update must get real about not only how much the state can do to reduce the number of miles people drive, but also what new laws, investments, and incentives will be needed to reduce vehicle miles traveled.
NextGen submitted detailed comments to the Air Resources Board outlining how the ARB can improve their assessment of cutting traffic pollution. We recommend that the Scoping Plan update should:
Analyze and lay out for the public what policies, potential legislation, funding, and other actions are needed to reduce vehicle miles traveled in California, and to prioritize community engagement that elevates the environmental justice voices most impacted by these policy decisions.

Account for planned roadway expansion in their modeling, incorporate quantifications of how road expansions will cause additional traffic, and protect marginalized and disadvantaged communities from the displacement and community fragmentation that result from freeway projects.
Work closely with other agencies to fully implement the Climate Action Plan for Transportation Infrastructure (CAPTI), which we have previously written about here.
Acknowledge that the state is not seeing the transportation emissions reductions needed and that improved enforcement of existing laws and new legislative authority will be needed to coordinate efforts in land use plans, affordable housing, and new mobility options.
California prides itself on its climate leadership, but in some areas, like providing access to safe, reliable, and convenient ways for people to get around without sitting in freeway traffic, we continue to lag. We can't kick this can down the road any longer. We need to stop expanding freeways and start building climate-smart transportation systems for all Californians.