You should be receiving your recall ballot in the mail around August 16th — and with so much on the line, this is not an election to sit out.
What's at Stake?
This election — just like all our elections — is a chance for you to help decide the future of our state. It's about ensuring our fight for progress on environmental justice, affordable housing, criminal justice reform, climate change, racial equity, and so much more keeps going. The Governor holds tremendous influence over crucial policies, programs, the budget, and state agencies and departments — and his/her leadership will define California for decades.
How does a recall election work?
The recall ballot will ask two questions:
Do you want to recall Governor Newsom?

If the governor is recalled, who do you want to replace him?
If 50% or more vote NO, the Governor would remain in office. If more than 50% vote YES, the Governor would be removed from office and the person with the most votes would replace him.
Key Dates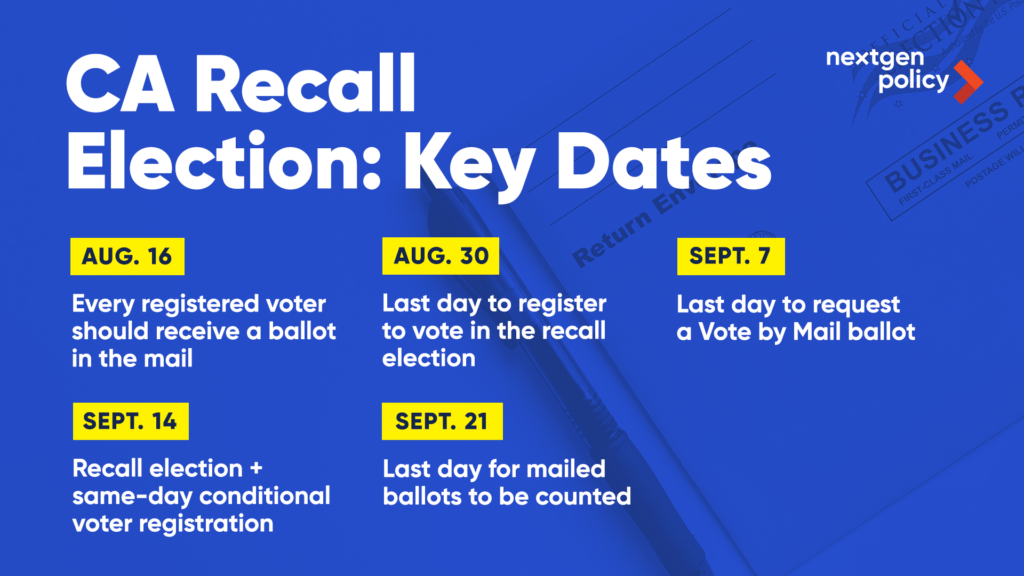 August 16 –

Counties mail every registered voter a ballot.

Track your ballot here

.

August 30 –

Last day to register to vote in the recall election (if you miss this deadline, you can still go to a designated vote center, register in person and vote provisionally the same day)

September 4 –

In-person early voting begins at vote centers

September 7

– Last day to request a replacement ballot

September 14 –

Recall election 
Voting Options
Mailing it to your

county elections official

, postmarked on or before election day, September 14. 

Returning it in person to a polling place or the office of your county elections official

Dropping your ballot into one of your county's ballot drop boxes no later than 8 p.m. on election day

Authorizing someone to return the ballot on your behalf via one of the above methods. Anyone you trust may return your ballot for you. In order for your ballot to be counted, you must fill out the authorization section found on the outside of your ballot envelope.
In person:

In-person voting locations will offer voter registration, replacement ballots, accessible voting machines, and language assistance to those who need it.

Early voting: Cast your vote at vote center locations starting September 4. 

Voting on Election Day on September 14
Have a plan and participate
Don't let life get in the way of something as important as your vote. Make a plan to vote:
How do you plan to vote?
When do you plan to vote?
How will you get to your polling place if voting in person?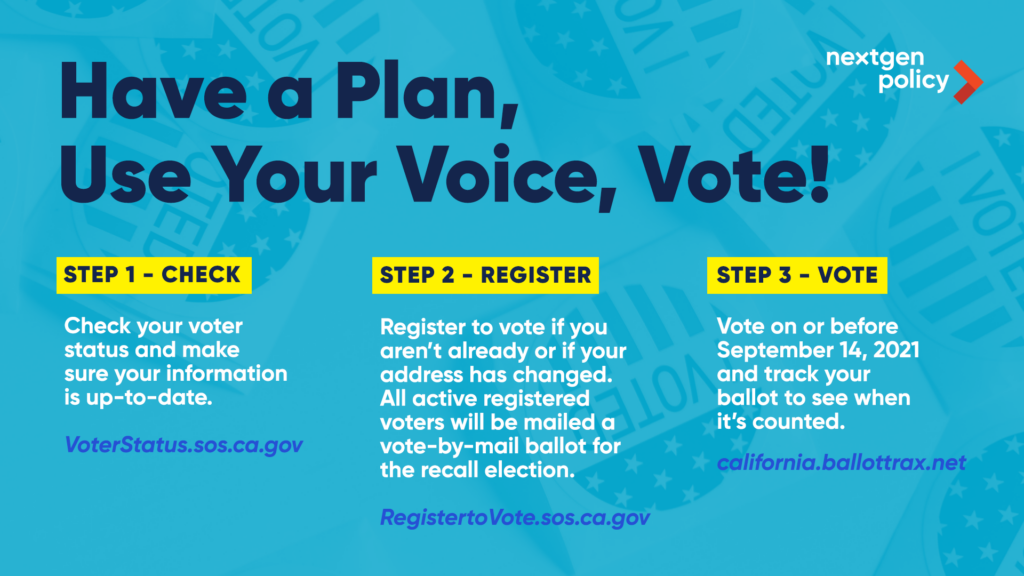 Step #1- CHECK 
Step #2 – REGISTER
Helpful Resources